Why hire software developers in Ukraine?
Ukraine is one of the most attractive outsourcing destinations for businesses of all sizes that are looking for skilled professionals for a range of projects. When it comes to software development, Ukraine ranks among the top outsourcing destinations in the global IT market, thanks to the country's extensive talent pool offering expertise in various technologies and industry domains — at reasonable prices.
In this post, we list just some of the many reasons why so many businesses hire remote software developers in Ukraine — and why you should consider it too.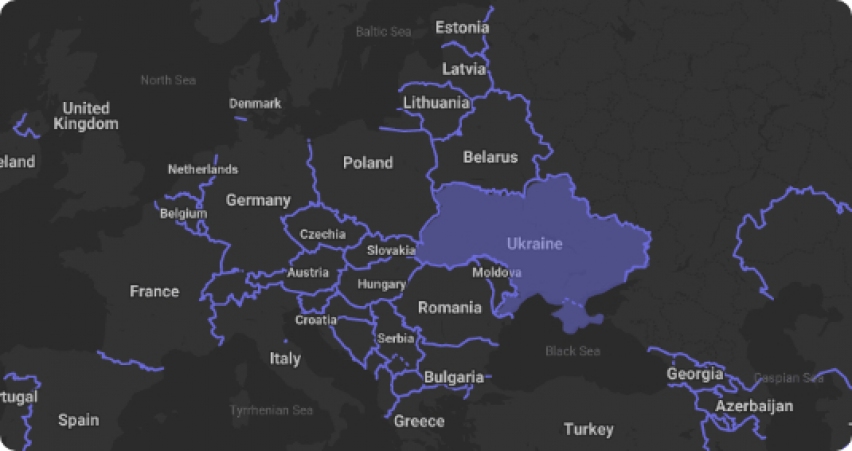 An overview of the software development industry in Ukraine. Key facts
When it comes to software development outsourcing, Ukraine is pulling ahead of the majority of its CEE competitors. The country offers a much larger tech talent pool, better infrastructure, and more competitive outsourcing rates as compared to Poland, Belarus, the Czech Republic, and many other countries.
General facts
185,000 developers

There are more than 185,000 developers in Ukraine. The numbers are expected to grow to over 200,000 tech specialists entering the tech industry by the end of 2020.

4,000 tech companies

Ukraine is home to over 4,000 tech companies operating in the market. Among them, over 1,600 companies specialize in software development services.

IT is Ukraine's second largest export

Ukraine's IT industry is the country's second-largest export sector. Outsource services account for the majority of the sector, with many foreign companies reaping the benefits of Ukraine's vast tech talent pool.

The largest exporter of IT in Europe

According to UNIT.City, Ukraine is the largest exporter of IT services in Europe. Ukrainian exports of IT services are expected to be $5.4 billion in 2020 and $8.4 billion in 2025.

110 international R&D offices

More than 110 international companies have R&D offices in Ukraine. They include Google, Microsoft, IBM, Oracle, Siemens, Ericsson, Huawei, ABBYY, Hewlett-Packard, Rakuten, and Wargaming.More than 110 international companies have R&D offices in Ukraine. They include Google, Microsoft, IBM, Oracle, Siemens, Ericsson, Huawei, ABBYY, Hewlett-Packard, Rakuten, and Wargaming.

The USA is the largest partner in R&D

The country's largest partners for joint R&D activities are the USA (45% of companies), the EU countries, and Israel.

100 companies from Fortune 500 work with Ukraine

More than 100 companies in the Fortune 500 list use services by Ukrainian companies.

11-26% annually IT industry growth rate

Ukraine is ahead of the average growth rate of the global IT industry, demonstrating a steady growth of 11-26% annually.
In 2020, 21 companies from Ukraine (13 Ukrainian companies and 8 companies with offices in Ukraine) made it to the IAOP's top 100 list of the world's best outsourcing service providers.
Tech environment & community
Vibrant tech community

Ukraine has a vibrant tech community. More than 20 cities have created their own IT-clusters, bringing together local IT companies and partners, universities, local authorities and non-tech professionals. Over 1,000 specialized IT events take place each year, both on statewide and local level.

High level of English

80% of Ukrainian software developers have an intermediate or higher level of English proficiency.

2-3 hours away from major European capitals

When you opt for nearshoring software development to Ukraine, your team is just a short flight away. Most Ukrainian cities are just 2-3 direct flight hours away from major European capitals.

Visa-free from US and EU citizens

Citizens of the United States and the EU can travel to Ukraine visa-free for 90 days. It will be easy to meet face-to-face with your remote development team.
Ukraine is just 1-2 hour ahead of most European countries, 7 hours ahead of the Eastern Time and 10 hours ahead of the Pacific Time.
Awards & Rankings
11th best software developers in the world

Ukraine ranks 11th with an overall score of 88,7 out of 100 points on the HackerRank's list of top 50 countries with the best software developers in the world.

7th best by the quality of delivery

According to UNIT.City, Ukraine ranks 7th globally by the quality of delivery and overall efficiency of the freelance workforce.

The UK's top offshoring destination

In 2017, Ukraine was named the UK's offshoring destination according to the Global Sourcing Association (GSA) UK.
How much do developers earn in Ukraine?


Ukrainian software development industry commands a reasonable rate compared to tech talent in its CEE counterparts, with the average monthly salary between $1,400 and $3,300 after taxes. Developer salaries in Ukraine depend on the level of experience and expertise as well as the type of programming language.
An annual salary of software developers in Ukraine exceeds the salary of their colleagues in the Philippines, India, and Malaysia, but remains much lower than developers' salaries in Western European countries and the USA.
Why hire Ukrainian developers?
Extensive talent pool, strong technical proficiency, and attractive rates make Ukraine one of the best outsourcing destinations. Check out the five main reasons why hire software developers in Ukraine:
1. Extensive talent pool
Ukraine has a wide talent pool of IT professionals with top quality skills. Tech jobs have an element of prestige in Ukraine. They offer great professional development opportunities and provide one of the highest compensations on the market.
Over 60% of Ukrainian developers work in outsource IT service companies, lending their skills to a variety of different projects and industries. Ukrainian IT companies strive to establish long-term partnerships with their clients. Therefore, the talent pool is growing both in quantity and quality.
Ukrainian software engineers have a vast expertise in various industries, including fintech, healthcare, gaming, ecommerce, security, IoT, AR/VR software development, big data, machine learning and artificial intelligence… you name it.
2. Attractive rates
The cost of living in Ukraine is one of the lowest in Europe. This is why clients from the USA and Western Europe may find software development rates in Ukraine very affordable, if not cheap. By outsourcing IT development to Ukraine, Western Europe's companies are likely to save 40 to 60% of their total in-house IT spending.
3. Convenient time zone
Ukraine is located in the UTC+2 (EET) time zone, which makes the country a convenient destination for both offshore and nearshore outsourcing. If you're in Europe, your business hours will be practically the same as the working hours of your remote team in Ukraine. Ukraine is just 1–2 hours ahead of most European countries.
If you're in the US, Ukraine is still a convenient time zone option. The country is 7 hours ahead of the Eastern Time and 10 hours ahead of the Pacific Time. By the time you get to the office, your remote development team in Ukraine will already have progress to report.

4. English proficiency
When you opt for offshore software development in Ukraine, you can be sure there will be no language barriers to communication. Ukraine's tertiary education puts a big emphasis on language training. English is a must-have skill for anyone working in the global IT industry. Most Ukrainian IT specialists speak English at an intermediate level or higher. They can easily communicate with English-speaking clients and leverage all the latest resources related to their work.
Major outsourcing companies in Ukraine have either English teachers in-house or contracts with local language schools to help their employees polish their written and spoken English skills.
5. Strong technical education
Tech disciplines are constantly growing in popularity. Most Ukrainian universities offer technical education and advanced STEM programs, producing a steady stream of about 36,000 tech graduates annually. University programs have tough entry and course requirements for applicants and students.
IT companies also offer courses, training programs, and internships to help talented students to improve their practical skills. A lot of new programs are launched every year with the support from the biggest IT companies.
IT specialists strive to stay in the loop about the latest technologies and their application in the industry. They constantly improve their technical and soft skills to gain an advantage in the highly competitive ICT market.
What are the possible risks of outsourcing to Ukraine?
If you're considering outsourcing software development to Ukraine, you also need to be aware of possible risks.
Time zones
An important aspect of interacting with a remote development team is to stay in touch at a time convenient for everyone. Without a sufficient working day overlap, it won't be possible to hold an emergency meeting or discuss an urgent change of plans. Regular meetings and reports often require the presence of all involved team members, which may be inconvenient because of the time zone difference.
A non-EU country
One of the things to keep in mind when outsourcing to non-EU countries is legislation and regulations applicable to your business. CCPA, GDPR and Ukrainian legislation have significant differences regarding the personal data protection. It's now illegal to transfer personal data outside the EU without taking strict measures to protect sensitive personal data. While Ukrainian IT service providers strive to maintain good and trustful relationships with their Western partners, it won't hurt to discuss the legal norms and challenges before entering an agreement.
Unstable political situation
Geopolitical and natural risks have always been part of the decision mix, specifically when it comes to outsourcing IT services. The country still has a number of ongoing issues to solve. Companies looking for an offshore software development vendor in Ukraine may have concerns regarding an ongoing conflict in the eastern part of Ukraine. Ukrainian currency has fluctuated 20.9% during 2019. Corruption still remains a known issue.
That said, Ukrainian authorities claim to encourage reforms and work to make it easier for Ukrainian companies to work with overseas partners. Labor taxation for IT-related businesses remains relatively low, allowing Ukrainian companies to maintain attractive price-to-quality ratios.
Hire software developers in Ukraine with UVIK
UVIK is an IT staff augmentation company. We are located in Ukraine and help companies from the USA, the UK, and Western Europe fill their skill gaps with strong engineering talents. If you're looking to hire a developer in Ukraine, check out our expertise below:
Python Staff Augmentation

React Staff Augmentation

React Native Staff Augmentation

DevOps Staff Augmentation